Don't Be Afraid To Think Big – Inspiration From A Nine-Year-Old
By: Erika Goldwater, Chapter President, North Shore MA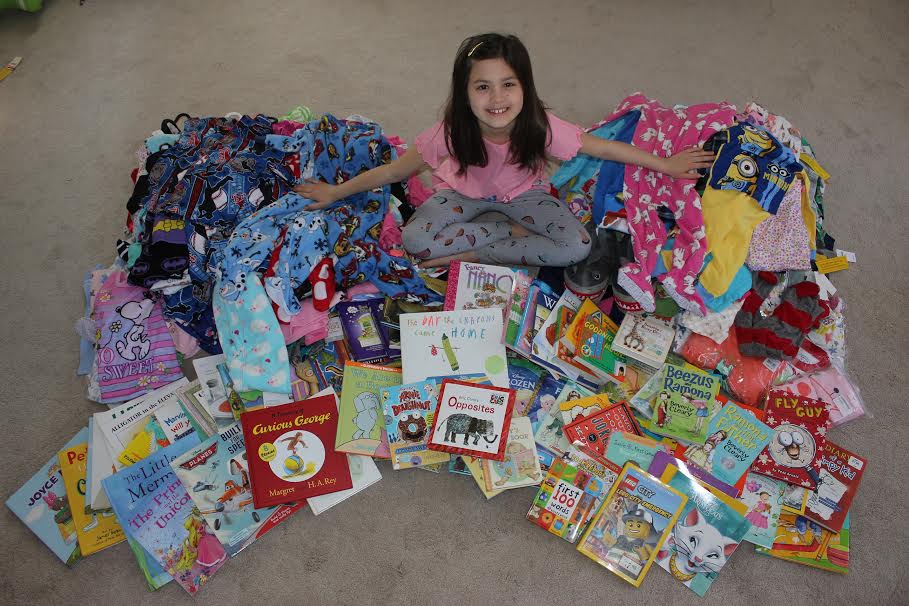 What comes to mind when you think of a third grader? Maryn Rendish is like many elementary-school kids, a typical nine-year-old who loves to bake cookies with her family (mom, dad and two younger sisters), paint, make crafts and is an accomplished Irish step-dancer. Not much slows Maryn down.
However, when Maryn was younger she was hospitalized due to her asthma and during her stay, noticed that the children's ward didn't have many toys. After she got home, Maryn donated her own birthday gifts to the hospital so that other children might feel more comfortable during their stay. The idea for helping others stuck with her.
When it came time to start planning her ninth birthday party, she asked her mom if she could have guests bring new pajamas and book as donations for the Pajama Program, a national charity that helps local children in need with new pajamas and books, instead of gifts for herself. Typical nine-year-old behavior, right?
Not only did Maryn turn her birthday party into a Pajama Program drive, she decided to go bigger. Maryn asked her principal if they would open the drive to her school, Norman E Day School (3-5th grade) in Westford, Massachusetts and to her sister's school as well, Rita E. Miller (K-2nd grade). She didn't stop there and got her local dance school, Dance New England, involved as well. Both the schools and the dance classes collected donations in cardboard boxes Maryn made to hold the donations and together they gathered 96 pairs of pajamas and 95 books for local children in need. All because of a nine-year-old girl.
When asked how she hopes the children feel when they receive the donations, Maryn said she hopes they feel loved and know others were thinking about them. "I feel safe and happy when I am getting ready for bed, always warm in my pajamas when my mom reads me a book. I just hope other kids can feel the same way with these donations," said Maryn.
What was the biggest surprise about this whole process for Rendish? "There were so many donations coming in. I was so grateful for all of the pajamas and books. I didn't expect that we could gather so many," reported Maryn. "It wasn't hard to do, we just asked for donations and they kept coming in."
I asked Maryn for any advice or words of wisdom to share with other children looking to get involved in a charity or helping others and I had to wipe a tear away while recording her thoughts. "Don't be afraid to ask other people to do bigger things. It's good to think big because you never know what can come from it."
We can and should teach our children the value in helping others, but sometimes, the children teach us. Thanks to Maryn Rendish for choosing the Pajama Program of the North Shore to partner with on her first drive. We look forward to future drives with this amazing young woman and hope this story might spark inspiration for others to do something incredible too.
"Don't be afraid to ask people to do bigger things."
— Maryn