November 2020-January 2022
One Million Good Nights is a national advocacy and fundraising campaign to impact the lives of one million children in a time of unprecedented uncertainty and disruption to daily routines. In our 20th anniversary year, we are committing to delivering the bedtime tools, sleep health education, and caring connections needed for one million children and their caregivers to have a good night's sleep.
Inspired by the popular 2013 campaign of the same name, Pajama Program launched One Million Good Nights to meet the increased need that arose from the COVID-19 pandemic, high unemployment, and natural disasters.
Now, more than ever, providing the tools for a comforting bedtime routine and healthy sleep are essential for the health and well-being of children in our country.
How We're Doing:
227,868
Cozy Pajamas Delivered
78,195
Inspiring Storybooks Delivered
3,198
Sleep Health Education program participants
---
One Million Good Nights Calendar of Events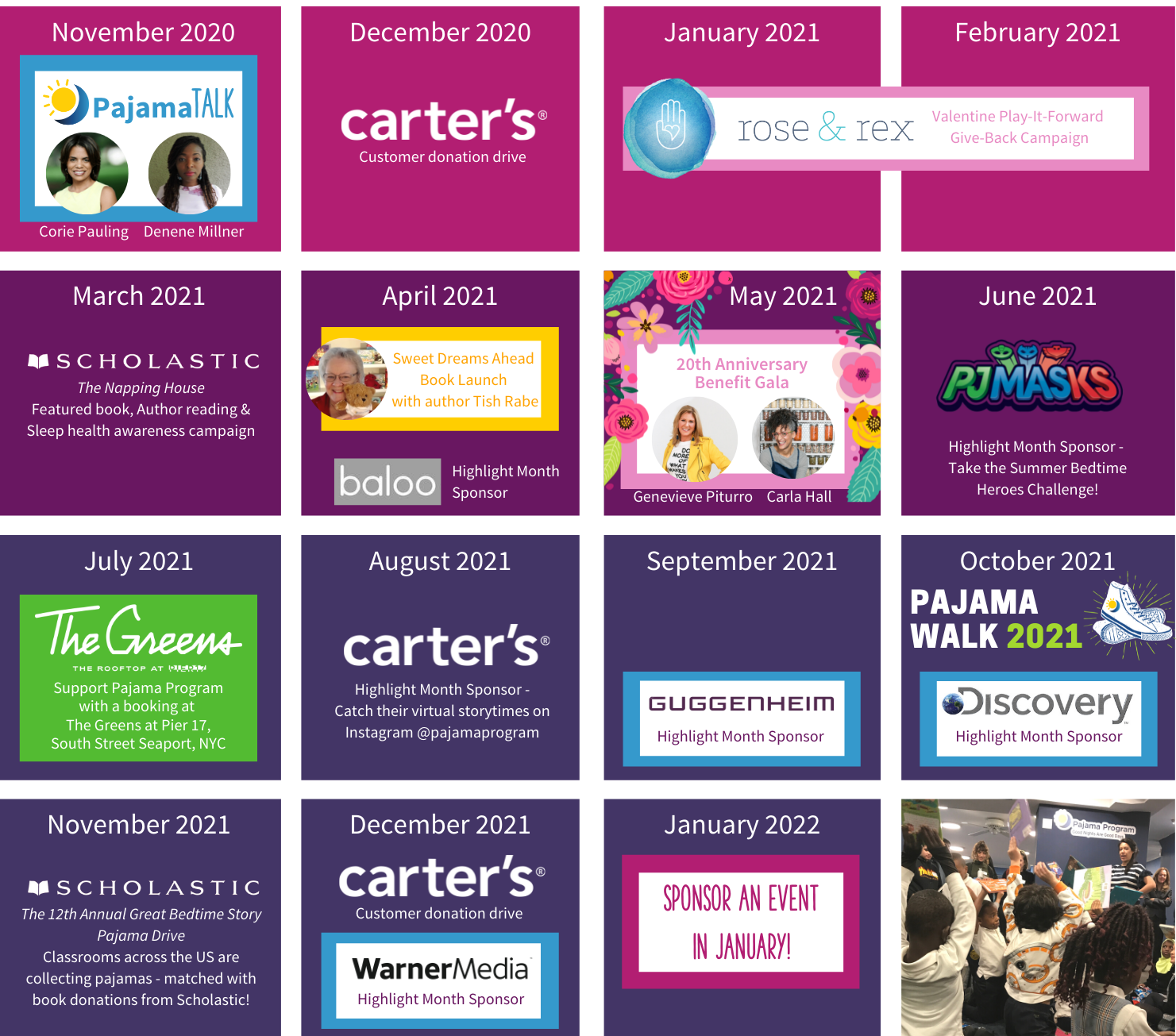 One Million Good Nights Partners & Sponsors
Carter's Inc, Lead Pajama Partner
Scholastic Book Clubs, Lead Book Partner
Tyler Perry Foundation, Good Days Sponsor
Baloo Living, Highlight Month Sponsor
Discovery, Highlight Month Sponsor
WarnerMedia, Highlight Month Sponsor
Guggenheim Partners, Highlight Month Sponsor
PJ Masks/Entertainment One, Highlight Month Sponsor
Rose & Rex, Highlight Month Sponsor
The Greens, The Rooftop at Pier 17, Highlight Month Sponsor
One Million Good Nights Committee
Jennifer Granger, Gala Chair
Brian Bates, Committee Member
IIDA NYC | Geiger
Rolene Materetsky, Committee Member
Materetsky Financial Group
Karin Ezbiansky Pavese, Committee Member
KEP Consulting
Tish Rabe, Committee Member
Tish Rabe Books
Margo Silver, Committee Member
IDOL NY
Nick Berger, Board Member
Melissa Bortnick, Board Member
Aaron Boyajian, Board Member
Jill Braunstein, Board Member
Julie D'Emilio, Board Member
Carla Hall, Board Member
John Kiely, Board Member
Pia Marinangeli, Board Member
Eileen McCarthy, Board Member
Amanda Milazzo, Board Member
Lawrence Nevins, Board Member
Ruchi Pinniger, Board Member
Ann Marie Resnick, Board Member
Irene Rowe, Board Member
David Rush, Board Member
Michael Smith, Board Member
Lisa Tan, Board Member
Randy Weis, Board Member
Jill Wilson, Board Member
Ramie Waxman, Board Member