National Nonprofit, Pajama Program, Hosts Annual Gala and Announces Call to Action for Year-Round Support & Expansion
Co-host of ABC's The Chew, Carla Hall, served as the evening's mistress of ceremonies and auctioneer; Pajama Program honored real-estate mogul Peter Riguardi, Chairman and President of New York Region for JLL, and his wife Linda Riguardi; Event raised $109,269 for NYC growth, halfway to meeting July 31 goal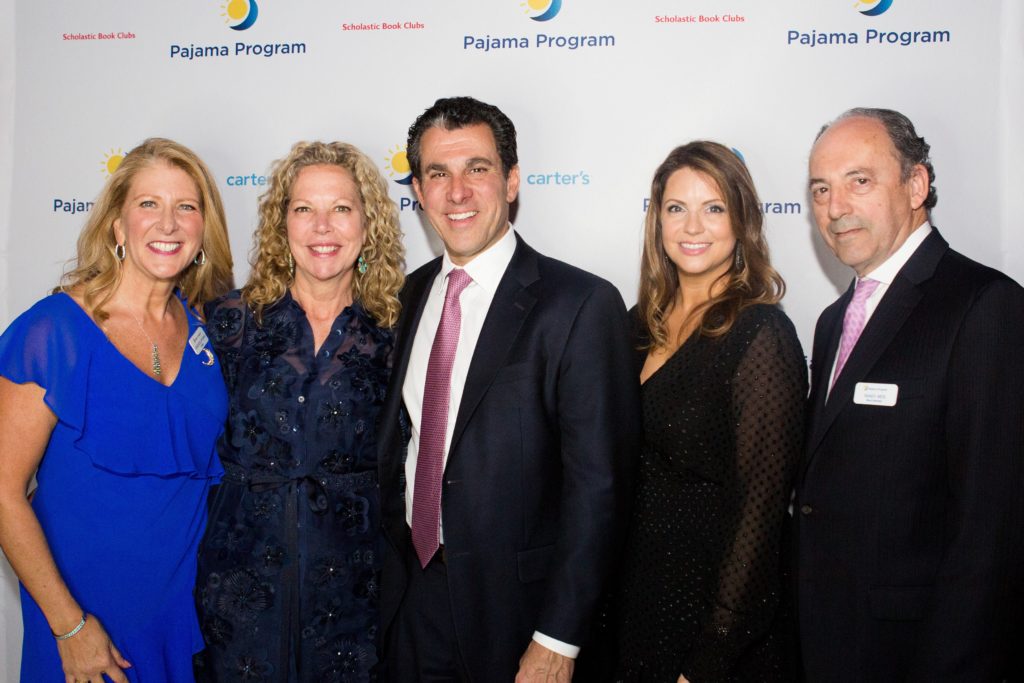 Pajama Program's Founder, Genevieve Piturro, the evening's honorees Linda & Peter Riguardi, Pajama Program's Executive Director, Jamie Dyce, and Chairman of the Board of Directors, Randy Weis.
May 18, 2018, New York – On May 10th at Capitale, Pajama Program, a 501(c)(3) nonprofit, honored real estate boldface Peter Riguardi, Chairman and President of the New York Region of JLL and his wife, Linda Riguardi, for their efforts on behalf of Pajama Program and for their support of the children the organization serves. This year's theme was "LOVE is the best light to read in, all year round," raising awareness that the needs of children at bedtime vary from season to season, especially those who are living in transient and unstable situations, like the children of Pajama Program. Pajama Program board member and co-host of ABC's The Chew, Carla Hall, served as the evening's mistress of ceremonies and auctioneer extraordinaire, rallying the 380+ guests for support.
Held in May of each year during National Foster Care Awareness Month, this year's Pajama Program fundraising event focused on the importance of a good night for children during all four seasons, year-round. With seasonal stilt walkers representing spring, summer, fall and winter, and a table theme highlighting the four seasons of a year, the message was clear: the need for Pajama Program services and support for children and teens affected by poverty is year-round and not just during the holiday season when people are more likely to support nonprofits. To date, Pajama Program has collected and distributed over 6 million pairs of pajamas and books but there's more work to be done, and more good nights to be fulfilled.
Pajama Program's Executive Director, Jamie Dyce, announced that the organization is growing and there is a great need to expand and renovate its NYC headquarters which also serves as the organization's local Reading Center. In the past five years, over 20,000 children have visited Pajama Program's Reading Centers; 17,000 in NYC alone. These centers serve as a comforting location where children and teens from Pajama Program's community partner organizations come to visit and share a storybook with an open-hearted volunteer. The nonprofit needs funds to meet the growing demands for its services, including support to accommodate the thousands of children on its waitlist who eagerly anticipate attending reading center programming at Pajama Program's NYC headquarters. While the organization's annual spring gala is the cornerstone event of the nonprofit's fundraising for the year, in order to meet the increasing demand for services at the NYC Reading Center, Pajama Program still needs additional support to achieve its expansion and renovation goals.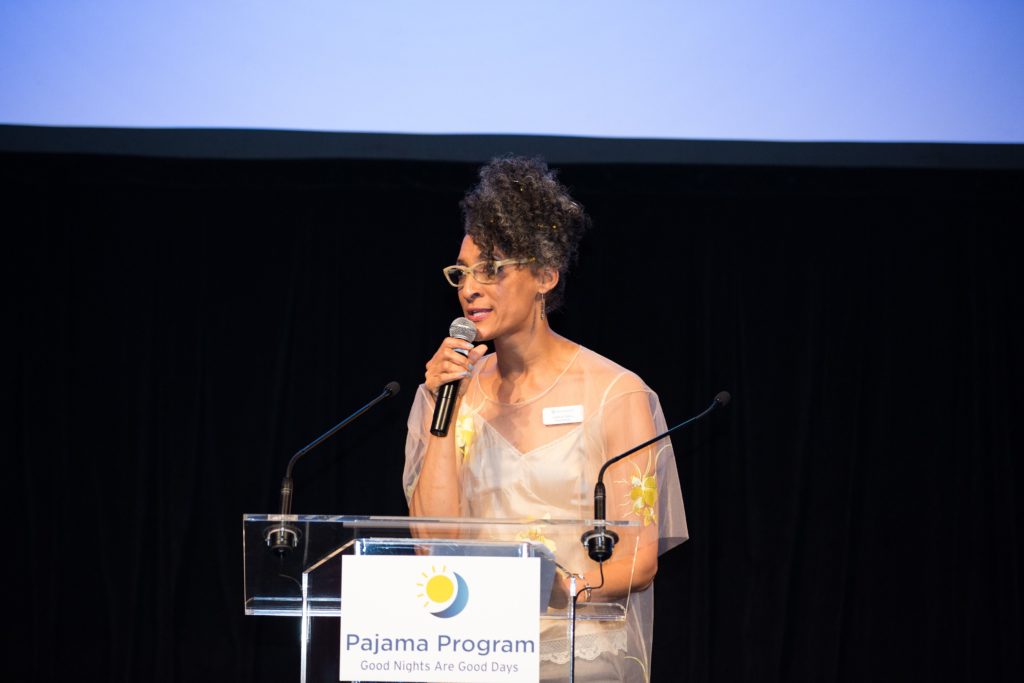 Celebrity chef Carla Hall welcoming guests to the 2018 gala.
The evening raised over $440,000 with generous donations from top sponsors, including Scholastic Book Clubs, the evening's honorees Peter and Linda Riguardi and Mr. Riguardi's JLL colleagues, Marin Management, SL Green Realty Group, Vornado Realty Trust, |E|N|V|, Ruchi & Keith Pinniger, RD Weis Companies, The New York Mets Foundation, Inc., and more. Major donors including Epsilon NYC, COFRA Foundation/Bregal Investments and the David & Rae Wiener Foundation, kicked off the capital campaign to support the growth of the NYC Reading Center. To date, $110,919 has been raised towards the organization's July 31st NYC expansion appeal goal of $200,000.
"At Pajama Program, we are committed to delivering on our mission of Good Nights are Good Days by supporting our children 24 hours a day, 365 days a year, in all four seasons," said Jamie Dyce, Pajama Program's Executive Director. "We have learned from the children and families we serve that each season presents unique vulnerabilities at bedtime. But with help from our partners and supporters, we can address giving sleep-scarce children the energy, optimism, and courage to pursue their dreams, year-round."
Past honorees include Meredith Vieira, Dylan Lauren, Soledad O'Brien, Patti LaBelle, Ellen Burstyn, Elizabeth Vargas, Marcia Gay Harden, Al Roker, Susan Lucci, Rosalie Rock (Chris Rock's mother), Darryl McDaniels (from Run DMC), Paula Zahn, Rosie Perez, R.L. Stine (author of Goosebumps series), Lee Haber (Editor of O Magazine) and others.
---
About Pajama Program
Pajama Program, a national 501(c)(3) nonprofit organization, believes that every child, no matter their circumstances, has the inherent right to a loving good night, complete with the comforting bedtime ritual of changing into clean, warm pajamas and enjoying an enchanting story. Our mission is to support a comforting bedtime routine for the children who need us most because we believe that good nights are good days. We serve children at-risk in every state by offering them the unconditional, magical gifts of new pajamas and new books so that they can enjoy the greatest benefit of a loving bedtime and peaceful good night: a fulfilling good day. Pajama Program was founded in 2001 and has delivered 6 million good nights for good days to children affected by poverty. pajamaprogram.org
Media inquiries:
AKA LIFE
Laura Cocivera
laura [at] aka-pr.com