Entering my sixth year as a Chapter President and looking back at the evolution of the organization, I am inspired by the path Pajama Program and I have taken. A Chapter President's number one role is pursuing our mission of promoting and supporting a comforting bedtime routine for all children—like the routine I so lovingly established with my own son 35 years ago—that includes changing into cozy pajamas and sharing an inspiring storybook.
Pajama Program relies on volunteer Chapter Presidents who, like me, help distribute pajamas and books to Community Partner organizations across the country. The areas each of us handles range from small to large, sometimes covering an entire state. Beyond distributing pajamas and books, each of us finds other ways to support Pajama Program's mission.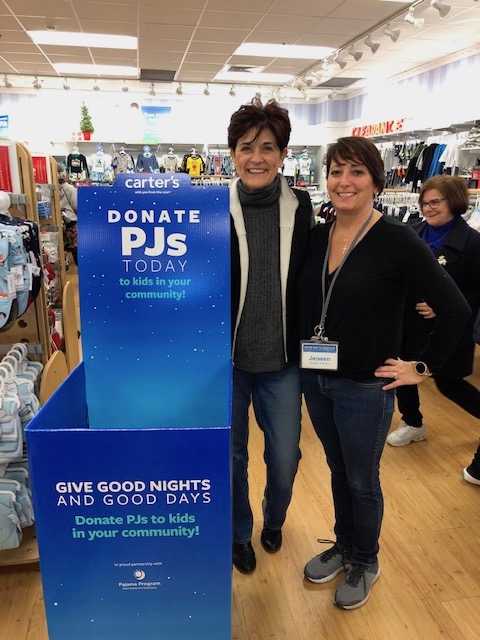 In my case, I started collecting new books and pajamas in Long Island. But it was meeting with people from our Community Partners—we work with Head Start Centers and other organizations that serve children facing uncertainty because, for example, they are in low-income homes—that helped expand and define my role. As a retired educator, I had new books and new pajamas to deliver to kids, so why not bring along volunteers to read aloud with them? The concept of Storytime held with a Community Partner grew and now thrives: we go directly to the kids!
Recruiting volunteers, increasing donations, and finding Community Partners are at the core of my work. Getting local and national media coverage helps attract donors. Every inquiry that comes through the Pajama Program website to the chapter needs to be pursued as it can become a new marketing or fundraising opportunity, like a recent partnership with St. John's University Academic Service Learning. Pajama Program Long Island was chosen to be the subject of several of their marketing classes and being on campus introduced us to service groups eager to sponsor fundraising events. Marketing students helped with social media and even provided a social media intern to get me started!
As my chapter recognition grows, I also get requests to speak at community groups—Rotary Club, Junior League, Women's Groups, church and synagogue events. I try to be a presence the community can rely on to deliver Pajama Program's message. Speaking at these events is also a great way to find new donors and partners. When a corporation indicates an interest in having a drive, I ask if they would like to sponsor Storytime. Word spreads in the corporate world as organizations seek more opportunities to support the community.
Donations and drives, outreach to community partners, fundraising, marketing, recruiting volunteers, scheduling and coordinating reading parties, and being a Pajama Program spokesperson all fall under a Chapter President's work. I love it!
If you're interested in becoming a Chapter President or joining a local chapter, visit here to learn more.