National Nonprofit, Pajama Program, Hosts Annual Gala and Announces New Programming for Caregivers Across the U.S.
Celebrity Chef Carla Hall served as the evening's auctioneer; Pajama Program honored Bruce W. Jaffe, Principal at MG Engineering D.P.C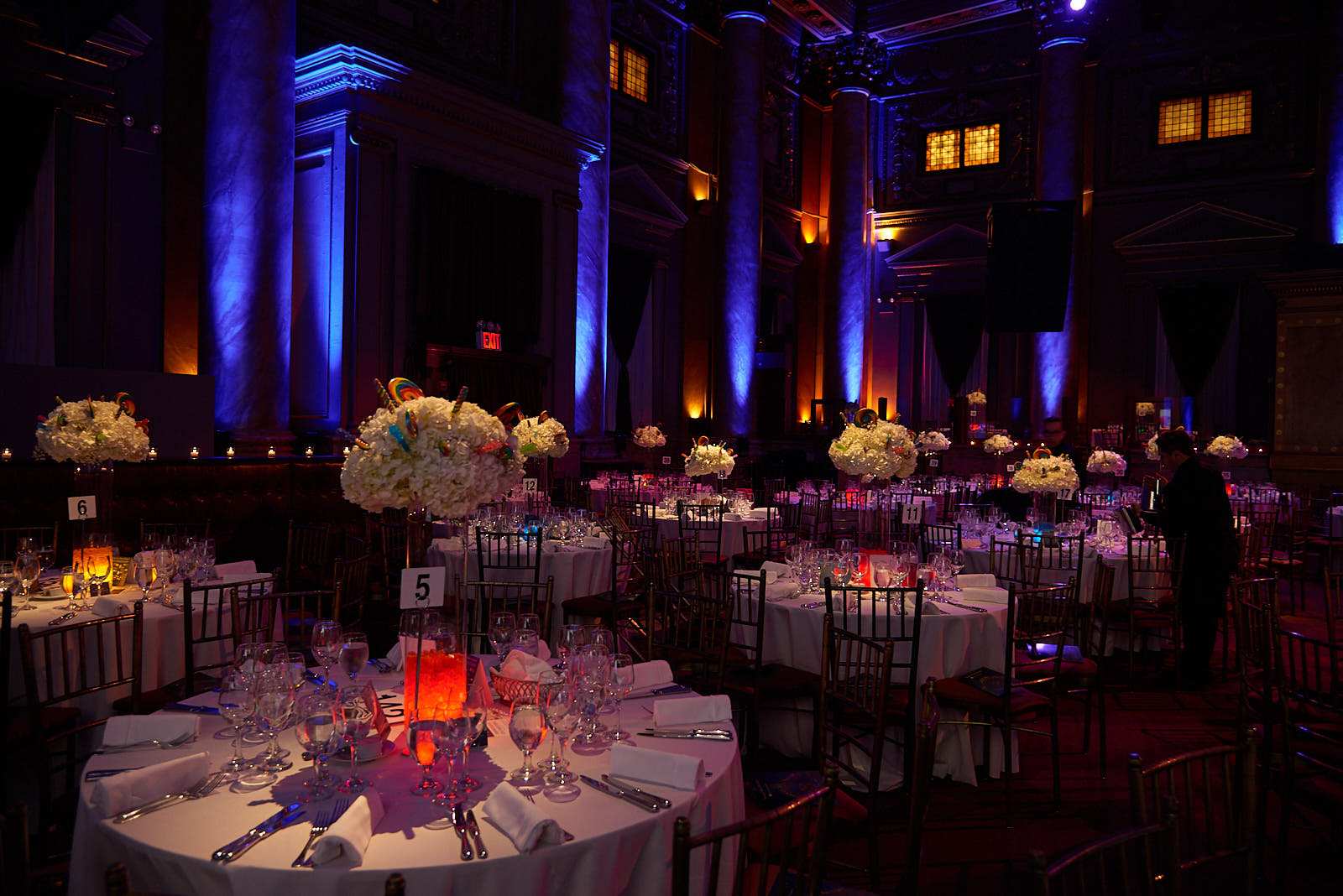 Event venue at Capitale in NYC
New York, NY – May 2019 – What is it about bedtime that's so magical? Do you have a sweet bedtime memory from your childhood or with a child in your life now? The importance of this special time of day and a comforting bedtime routine for all children everywhere was the message shared at Pajama Program's annual fundraising gala held in NYC on May 1st. A national nonprofit organization dedicated to promoting and supporting a comforting bedtime routine for all children to help them thrive, Pajama Program also announced its plan to activate new caregiver programming based on the feedback and needs of its 4,000+ community partners across the U.S. which include shelters, group homes, foster care agencies, high-poverty schools, and social service organizations.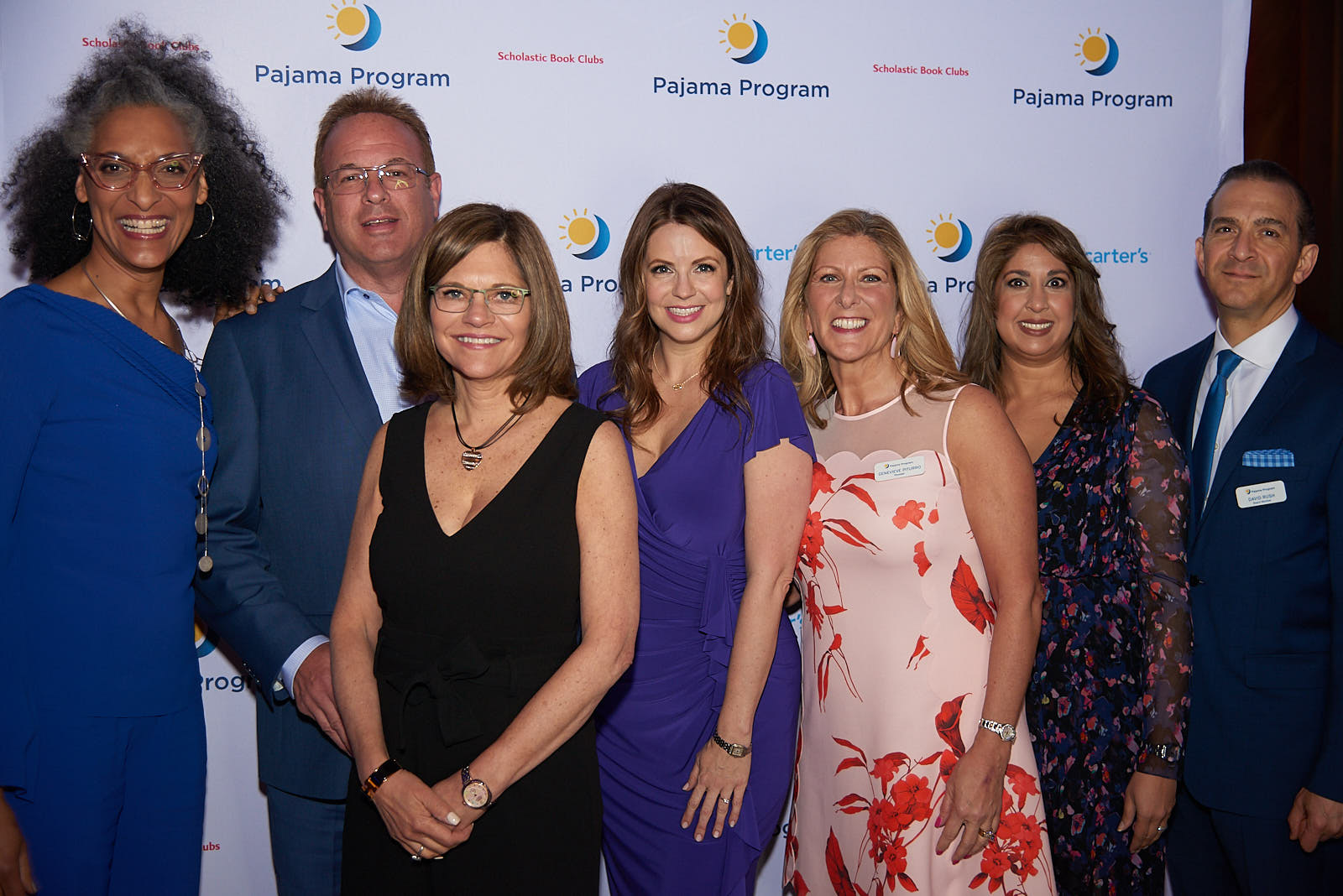 Celebrity chef and Board Member Carla Hall; Honoree Bruce W. Jaffe; Amy Jaffe; Pajama Program's Executive Director, Jamie Dyce; Founder, Genevieve Piturro; Board Chair, Ruchi Pinniger; and Board Treasurer David Rush.
Held in May of each year during National Foster Care Awareness Month at Capitale, NYC, this year's Pajama Program fundraising event celebrated caregivers who help children dream and thrive, supporting good nights for good days. The "Chocolate Factory"-themed evening was attended by 500+ supporters from all over the U.S. and featured an appearance by long-time Pajama Program supporter and board member, Chef Carla Hall, who served as the evening's auctioneer. Event sponsors included Scholastic Book Clubs, Harlem Chocolate Factory, MG Engineering D.P.C., Jones Lang LaSalle Brokerage, GFP Real Estate, LLC, The New York Mets Foundation, The Pinniger Family, Cauldwell Wingate, |E|N|V|, RD Weis and SLCE Architects, LLP, among others. Pajama Program's lead pajama partner, Carter's, also supported the event.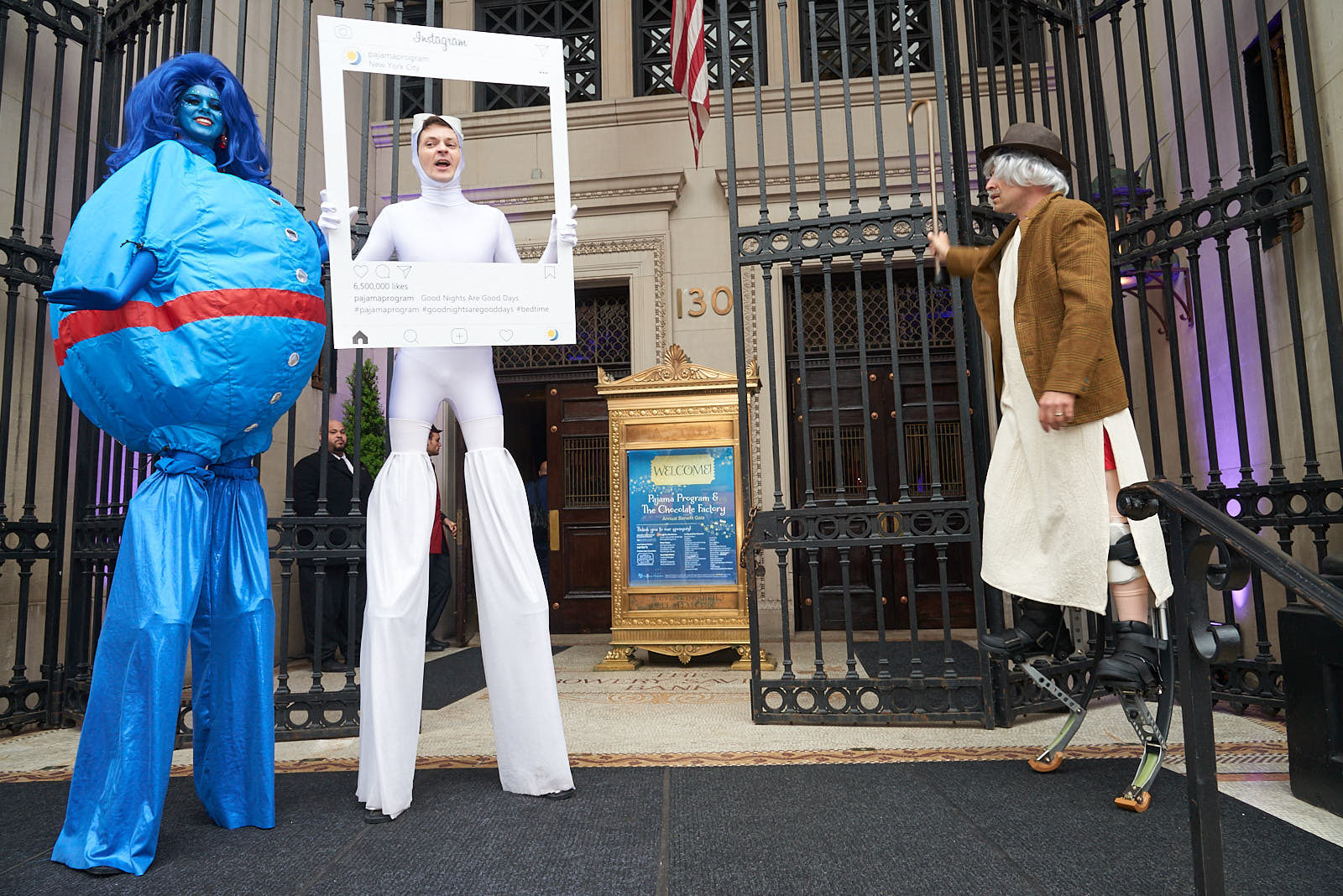 Greeters at Capitale's entrance.
"Our staff may be mighty but we simply cannot be with every child in every bedroom or wherever they are laying their heads tonight. But someone is there. There is a caregiver," said Pajama Program's Executive Director, Jamie Dyce.
"Knowing the magic of bedtime and the love that happens in those moments, we're creating new caregiver programming based on the feedback we've received from many of our community partners who support our families. When a child's life is filled with uncertainty and challenging for reasons beyond their control, it's in that chaotic time that the stillness you can find in a moment at bedtime is so critical — that's when the magic happens. In times of uncertainty there is an antidote, and that's the bedtime routine. We will continue to provide pajamas and books, and our new caregiver programming will supplement that work, supporting caregivers across the U.S. as they're empowered to implement bedtime routines for children in their care."
The event honored Bruce W. Jaffe, Principal at MG Engineering D.P.C. as this year's "Good Nights Are Good Days Champion." Jaffe and his team have been champions behind the organization's NYC Reading Center renovation and expansion which allowed Pajama Program to relocate its headquarters and expand its Reading Center to accommodate more children, a goal set at last year's gala.
To date, Pajama Program has collected and distributed over 6.5 million pairs of new pajamas and books. In the last five years, over 19,000 volunteer hours and over 22,000 children visits have been tallied at its two main Reading Centers, but there's more work to be done, more good nights to be fulfilled, and caregivers across the country that need assistance.
To learn more about Pajama Program and how you can help support these initiatives, visit pajamaprogram.org.
Pajama Program supporters include journalist and talk show hosts, Jenna Bush-Hager, and Meredith Vieira, actresses Debra Messing and Rosie Perez, bestselling author of the Goosebumps series, R.L. Stine, and Founder/CEO of GiftCards.com, Jason Wolfe, among others.
# # #
About Pajama Program
Pajama Program is a national 501(c)(3) nonprofit organization that promotes and supports a comforting bedtime routine for children to help them thrive. Since 2001, the organization has provided over 6.5 million inspiring storybooks and cozy pajamas to children nationwide who are experiencing challenges beyond their control, as well as critical resources for caregivers to support children at bedtime. Through its network of 4,000 Community Partners, 60+ volunteer Chapter Presidents, and main Reading Centers in New York and Atlanta, Pajama Program's goal is to create "good nights for good days" for all children, everywhere. www.pajamaprogram.org
PRESS CONTACT:
Laura Cocivera
lcocivera@pajamaprogram.org
917-417-9783