Newsletter
Vol. 1
April 12, 2017
The 24-Hour Good Day Loop
The first thing you see about us may be the new pajamas and favorite storybooks we give to children, but that's just the beginning of our tale. At Pajama Program, pajamas and books are magical gifts we use to provide the most at-risk children in our communities with unconditional love and a better future. Every child has a fundamental right to a loving bedtime and a peaceful night's sleep because we know that Good Nights are Good Days.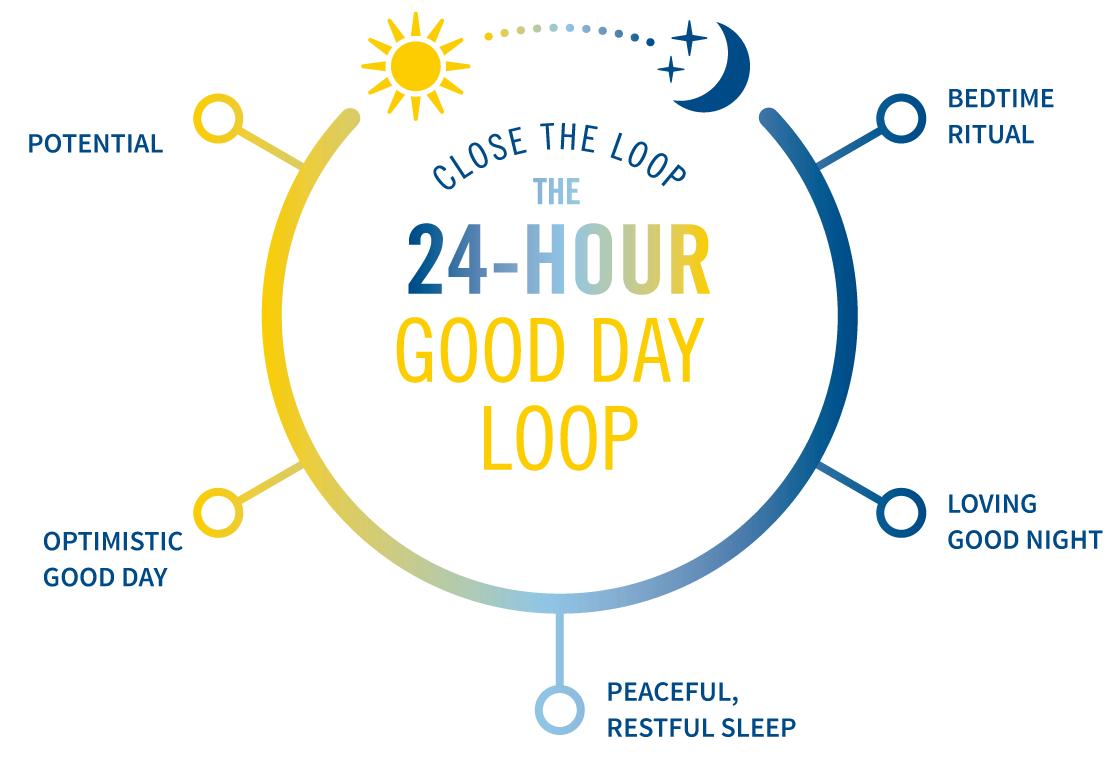 What It Takes to Complete the 24-Hour Good Day Loop for Every Child
Most of us remember going to bed as children feeling loved and cared for and underestimate how much this has shaped our lives. At Pajama Program, we know that Good Nights are Good Days – not just tomorrow, but well into the future. That's why we work to close what we call the 24-hour Good Day Loop for every child, especially for children whose situations are uncertain. We do it through 5 simple steps.

It starts of course with Step 1, the Bedtime Ritual. Bedtime is the most vulnerable time when children need love and care the most. For those children we serve, a more secure, comforting bedtime ritual can make a world of difference. Clean pajamas help them feel cared for, and an inspiring story fires their imagination and creativity, offering an escape from their day-to-day reality. These things will be key to their resilience.

Bedtime lays the foundation for Step 2, a Loving Good Night. When a child shares a story with a loving adult, like one of Pajama Program's volunteers, they

feel loved and begin to see beyond their current situation and imagine new possibilities for their lives. This makes it easier to wind down into Step 3, a Peaceful and Restful Night's Sleep, which changes almost every aspect of their next day. A good night's sleep means children awaken not just with the physical benefits of rest, but with more hope in their hearts. And soon they are on their way to Step 4, an Optimistic Good Day.

The research is in. Loved, well-rested children face the day with confidence, make better decisions, and create better lives for themselves. This is why we focus on the critical bedtime and nighttime hours, and the 24-hour Good Day Loop is our way of talking about it. It's how we string more good days together for vulnerable children to help them reach Step 5, Expanded Potential. That's how the 24-hour Good Day Loop is complete: when a loving bedtime leads to a good night full of restful sleep, providing the energy and courage for a good day – and many good days to come.

Bedtime




Learn how a more secure, loving bedtime changes lives.




Loving Good Night




Read why the simple act of sharing a story with a child makes that child more resilient.



And that's how the 24-Hour Good Day Loop is closed!
We share new stories and research in every newsletter.
Forward this email to a friend.
Read More
Donate
---
Help protect every child's right to a loving good night




You can support us in a variety of ways, toward a variety of programs. But however you give, you are protecting every child's right to a loving good night as the start of a productive good day.


Donate Today
Events
---
Spend a Good Night with Pajama Program in New York City

May 4th at Capitale! It's our annual benefit gala. Spend a good night with us as we celebrate together 16 years of providing loving good nights for good days to children everywhere. Enjoy our silent and live auction hosted by Carla Hall (Co-Host of ABC's The Chew) and join us in honoring David Rush, President of Environetics. Cocktails will be served at 6pm with dinner to follow. RSVP to Daniel Leventhal at daniel@pajamaprogram.org.

Run With Us!

There is nothing like running the largest marathon in the world in the greatest city on earth, except maybe doing so for a great cause. Pajama Program is an Official Charity Partner for the 2017 TCS New York City Marathon on Sunday, November 5, 2017. Run with us! We have 2 slots open, and those interested in participating should contact Elizabeth at elizabeth@pajamaprogram.org about registering by May 12th. Our runners will raise critical funds for a loving bedtime and a good night, which leads to a good day. The fundraising minimum is $4,000.
Pajama Program Life
---
| | |
| --- | --- |
| Hello, Atlanta! With thanks to Pajama Program's sponsor Carter's for its warm welcome, we're opening our fourth Pajama Program Reading Center in Atlanta, GA in June! We serve children in every state from our main office in New York and through 65 chapters across 31 states, but our Reading Centers have a magic all their own. | Thank you, NBC! Watch Pajama Program's feature on NBC's new philanthropy-focused show Give, which aired in March. Jenna Bush visits Pajama Program's New York City Reading Center and speaks with our founder, Genevieve Piturro, staff and some of the children we serve to learn what makes our model special. |
Our Sponsors
---
Pajama Program recognizes the generous support and unwavering commitment of our corporate, foundation and community partners who share the common goal of providing at-risk children with a comforting and nurturing bedtime by giving them new pajamas and new books.

PAJAMAPROGRAM.ORG 114 East 39th Street • New York, NY 10016-0958 • (212) 716-9757
Pajama Program meets the Better Business Bureau's 20 Charity Standards – the highest ranking for nonprofits – and is a Charity Navigator four-star charity.
Help us support good nights for good days for all children, everywhere.
Donate